Victorian Pinup Pageant 2023 & Revue de' Ballarat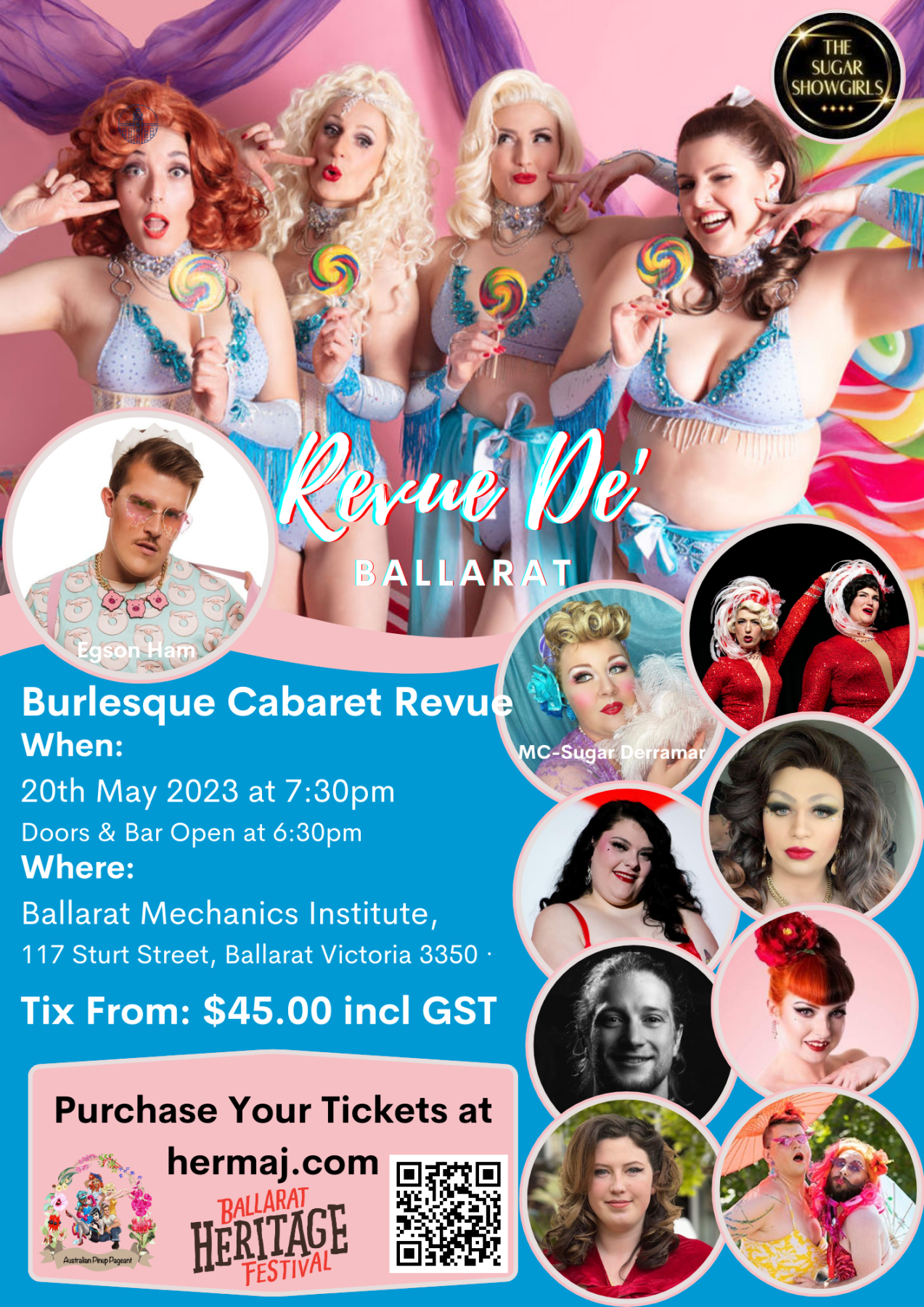 VICTORIAN PINUP PAGEANT 2023 – Saturday, 20th May 2023 at 12:00pm
Welcome to the 7th Annual Victorian Pinup Pageant.
Held during the Ballarat Heritage Week. The Victorian Pinup Pageant (segment of the Australian Pinup Pageant) is a celebration of Pinups in a performance-based presentation where entrants can achieve their personal best.
Open to Novice & Experienced competitors. ALL categories are Gender Neutral.
The Pageant promotes confidence, self-awareness and equality in a performance-based competition open to all abilities, identities, ethnicity in our wonderful diverse community whilst celebrating the fashion and music of yesteryear, in an authentic inclusive space.
Come along and enjoy an afternoon of pure Family Friendly entertainment.
Who will win the crown?
Your hosts are Lana-Rose Fashion & Events and Viva La Vintage.
The Victorian Pinup Pageant is Family Friendly. $5.00 for VIP Seating and a Gold Coin Donation is appreciated on the day for General Admission
REVUE DE' BALLARAT – Saturday, 20th May 2023 at 7:30PM.
18 + years only.
Welcome to Revue De' Ballarat, Burlesque & Variety Show presented by The Australian Pinup Pageant. A night of naughty & nice, fun & laughter & total guaranteed entertainment.
Headlining the Revue are "The Sugar Show Girls" & "Egson Ham" with our Emcee, Sugar Derramar. Special performance by: • The Sugar Show Girls, • Egson Ham – Mr Boylesque Australia 2015, • Miss Mini Mayhem, • Lucy Furr, • Rassputin, • Miss Lulu Lipstick, • Rose Spencer & Liam Kelly, • Alexis Spread – Ballarat's Famous Drag Queen, • Winners of the 2022 Victorian Pinup Pageant – Sugar St Clair & Vi Van Diemen.
VIP – Revue – SOLD OUT
GA – $45 VIP – FIRST 3 ROWS ARE RESERVED FOR VIP PATRONS (48 TICKETS ONLY) (incl. GST) Tickets MUST BE RESERVED including Free General Admission.