2023 Menzies Oration with Jennifer Dulski – Unleashing the Power of People & Teams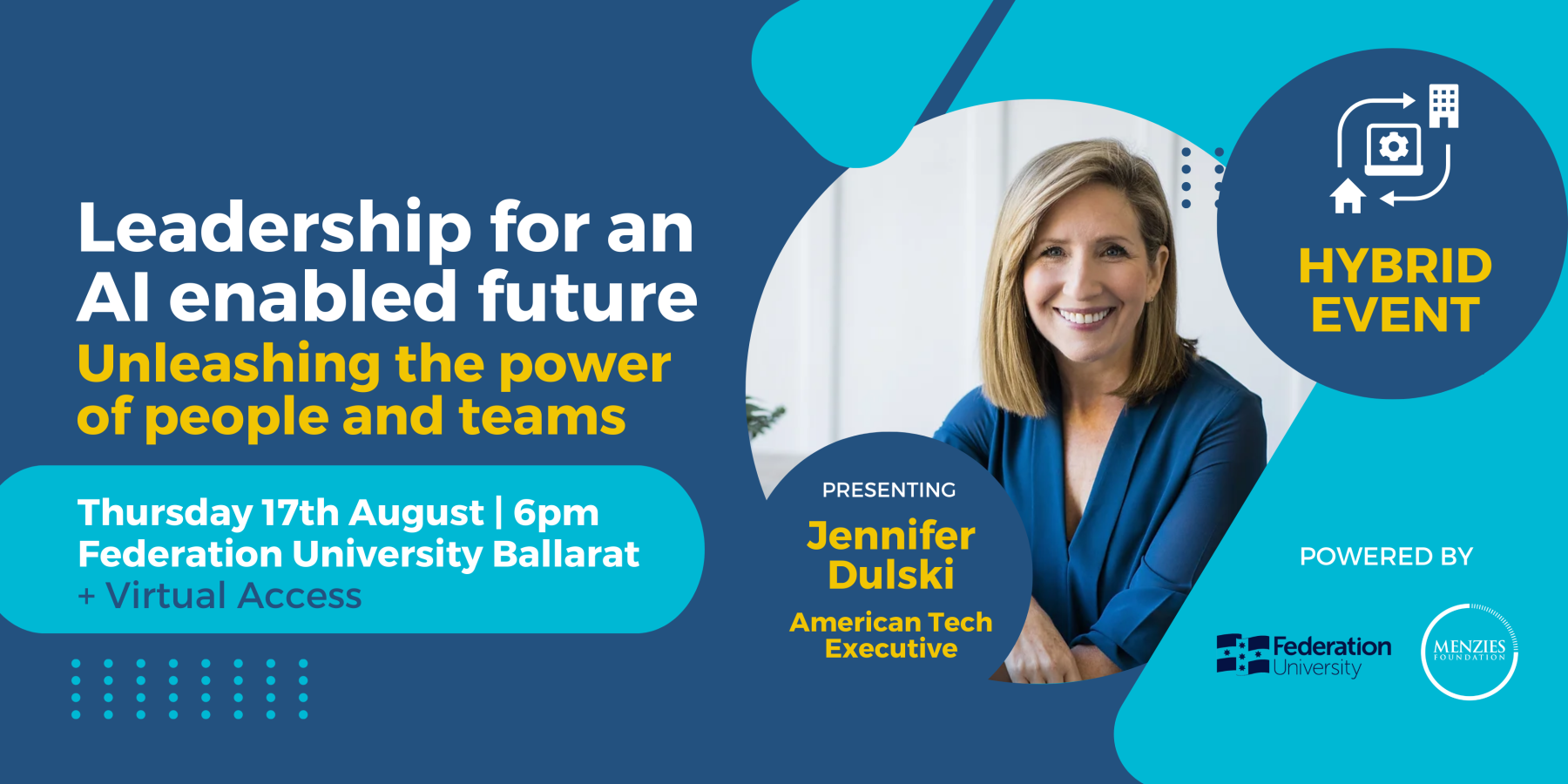 Join Federation University Australia and the Menzies Foundation for this thought-provoking 2023 Menzies Oration Event.
Hear how to be at the forefront of leadership for an AI-enabled future with guest speaker, Rising Team CEO and Founder, Jennifer Dulski.
Jennifer Dulski is a global business leader, a community builder and innovator.
Jennifer has a wide range of executive experience including leadership roles at Google, Yahoo and Facebook.
Jennifer led the team responsible for envisioning and redesigning Facebook Groups, used by more than 1.5 billion people each month to create and participate in communities that matter to them.
Dulski writes about leadership for LinkedIn Influencers and Fortune and serves as a lecturer in management at the Stanford Graduate School of Business.
Her first book, Purposeful, about how each of us can be a movement starter, was published by Penguin Portfolio in 2018 and is a Wall Street Journal Bestseller.
During this special event, Jennifer Dulski will delve into the essential qualities and strategies necessary for effective leadership in an AI-driven world.
Here she will explore the dynamic intersection of leadership and artificial intelligence.
With AI rapidly transforming the business landscape, it has become crucial for leaders to harness its potential while nurturing the talent within their organisations.
As an added bonus, Jennifer will be taking the audience (both in person and online) through a group Rising Team session!
Whether you're a seasoned executive, an aspiring leader, or simply curious about the impact of AI on the workforce, this event will equip you with the knowledge and tools to navigate the ever-evolving landscape of leadership in the digital age.
Don't miss this opportunity to unlock the potential of AI, harness the power of your teams, and shape a successful future for your organization.
This sure to be sold out event will be hybrid and tickets are available now to attend in person or as an online guest.