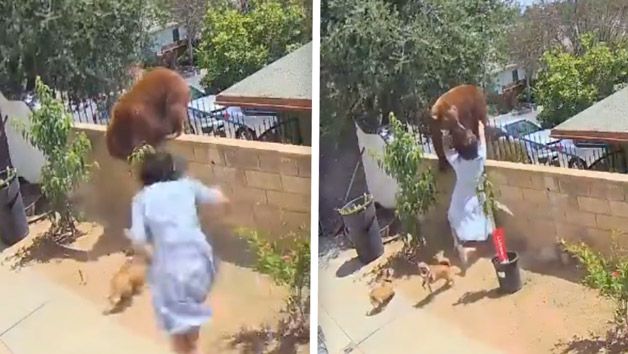 A video of a girl fighting a bear to save her dogs has gone viral after the scary encounter which happened in her backyard, was shared online.
Shared by the girl's cousin, Brenda (@bakedlikepie), the video has gained over 60 million views in a day on TikTok. The encounter happened on Memorial Day in California and was captured by what looks like a security camera at the teen's home. She captions the video:
My cousin Hailey yeeted a bear off her fence today and saved her dogs. How was your Memorial Day?! (WTF?!)
The video starts off with the mother bear coming into shot, walking on a fence with her two cubs following behind. Hailey's dogs then notice the bears and run towards them, and as a dog starts to fight and bark at the bear, it retaliates and fights back. The dog runs off but a smaller dog tries to attack it, which is when Hailey runs in and pushes the bear off the fence. She then rounds up her dogs and runs out of shot.
Viewers were shocked, one saying, "She pushed it I mean wowww.. and didn't get bit?!! I am Amazed watched it 10 times. Why are the dogs so brave ?!!! My dog would run."
In a follow-up interview with reporter Megan Telles, the 17-year-old said on an Instagram story, "I feel okay, I'm alright I'm safe." She revealed she sprained her finger whilst pushing the bear which you can see in bandages.
Hailey also took to TikTok to share her story about the encounter.
Image Credit: (@bakedlikepie / Instagram)